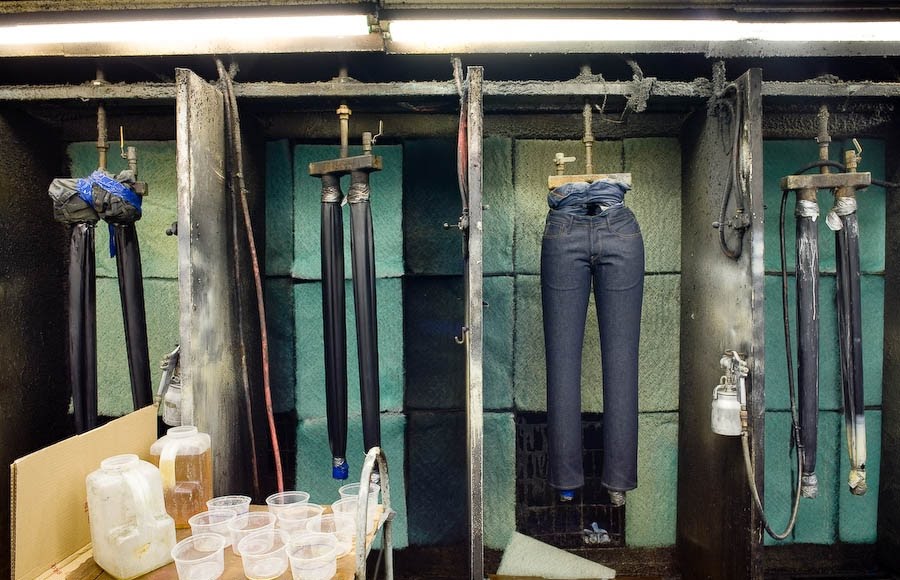 Fashion is today incomplete without denim. Denim comes in all forms, looks and washes to match with every dress. In denims, garment washing is done to produce effects like color fading with or without patchiness, crinkles, seam puckering, hairiness, de-pilling, softened-hand feel, stabilized dimensions etc.
Rinse Wash
It is most basic wash for denim garment. Typically named, Dark Wash, the only purpose of this wash is to make the garment wearable. During the construction of denim fabric, starch is applied to strengthen the Warp. This makes the fabric pretty stiff and harsh to skin. In rinse wash the garment is desized and some softening agent is applied to improve the hand feel of garment. In some cases Potassium Permanganate is applied on blasted area with spray gun of paint brush. This is commonly used where the fading effect is desired to high intensity.
Enzyme Washing
Enzyme is kind of protein that is obtained from fermentations method from naturally existing bacteria & fungi. The structure of Enzyme is a biological polymer and it can be found in every cell. Generally called as Cellulase & it works on cotton (Cellulosic fiber) only. Enzymes are living organisms which will attack a specific molecular group.
There are mainly three kind of Cellulase being used for Denim washing, Neutral, Acid and Bio polishing Enzyme. Enzymes are very sensitive with parameters in washing cycle i.e., pH, Temperature & time. If any of these parameters are not up to the mark, result will not be accurate. The reaction of enzyme can be easily controlled, its biodegradable products, so they eco friendly. Bio Polishing Cellulase are being used to have protruded fiber removal from denim & oven fabric. This is also widely known as Anti pilling enzyme.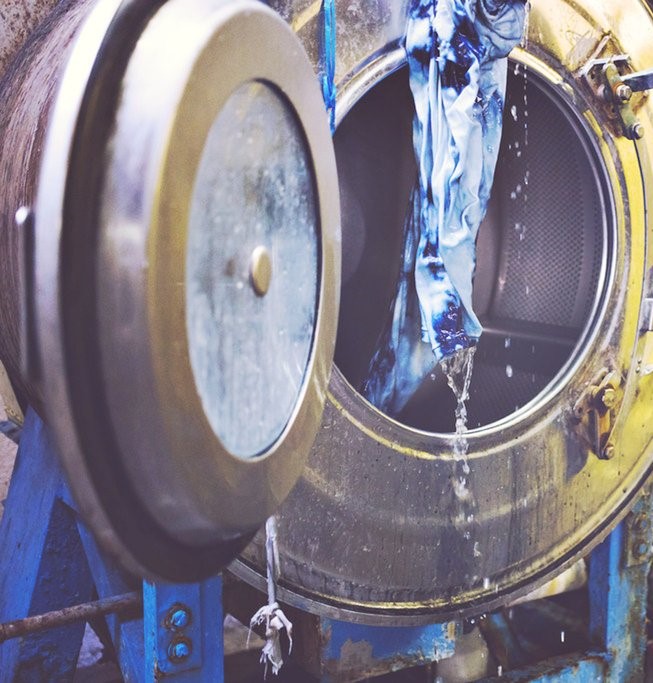 Stone Washing
In the process of stone washing, freshly dyed jeans are loaded into large washing machines and tumbled with pumice stone or volcanic rock to achieve a soft hand and desirable look. Variations in compositions, hardness, size shape and porosity make these stone multifunctional. The process is quite expensive and requires high capital investment. Pumice stone give the additional effect of a faded or worn look as it abrades the surface of the jeans like sandpaper, removing some dye particles from the surfaces of the yarn.
Caustic Wash
Caustic wash generally doing on Reactive dye, Sulphur dye, Direct dyed or printed Garments.
Caustic wash is required for the following reasons:
To fading/old looking affect on Garment and seam abrasion affection seam area.
To remove the size materials, starch from the garments.
To increase the color fastness & rubbing fastness.
For soft feeling to wear the garments.
To increase the hairiness on garments.
To achieve the buyer reference sample.
Hydrogen Peroxide Wash
Hydrogen Peroxide is rarely used as bleaching agent when very less color loss required or if fabric is sulphur top. As it takes longer time to give desired effect. Hydrogen peroxide creates the prime role in bleach wash technique. In alkaline medium, hydrogen peroxide breaks up and gives some per hydroxhyl ion, which discolor the coloring materials and as a result fading affect is developed. Hydrogen peroxide is used in scouring, bleaching bath for white/ready for dyeing of gray fabric garments. It is used also neutralized the garment from alkaline condition.
Bleach Wash
Bleach wash or light stone wash refers to light blue shades of denim. The additional step is bleaching to stone wash. This bleaching is usually carried out by strong oxidizing agents. In industry, most widely used chemicals are sodium hypo-chlorite, calcium hypochlorite, hydrogen per oxide and potassium permanganate. Other than that many products with different brand names are available in market.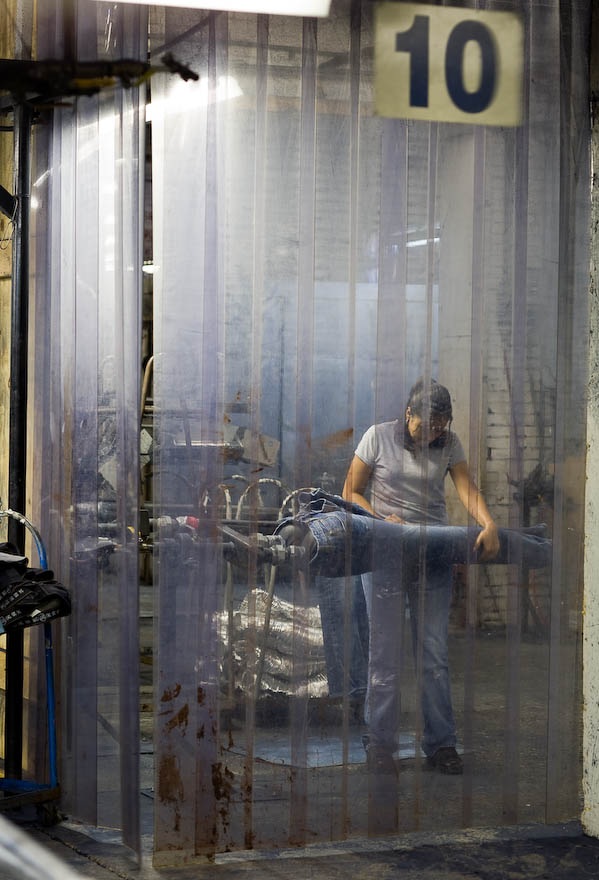 Sand Blasting
This process is used to obtain localized abrasion effect. Usually, aluminum oxide granules are blasted onto the garment surface at a very high speed. The abrasion force rubs off the indigo-dyed fibres.
Tinting
Tinting is a process where very less amount of tint is involved & mainly direct dye is being used to do this process. This is being done to change hue/cast/tone of indigo. As soon as quantity of tint color increases & it cover up indigo, reaches the level of dyeing. Tinting being used to give garments a used / vintage & muddy look. These processes takes from 5 minutes to 25 minutes time for better results followed by dye fixing & clean up of superficial dye.
Ice Or Snow Washing
This is achieved by dry tumbling with pumice stones soaked with bleaching agents to produce a 'snow' pattern effect on denim. Stones are used to deposit a chemical on garments to strip off the colour. This chemical deposit removes colour only from the outer surface of the garments and produces a frosted appearance. Indigo and selected sulphur dyes are the most popular candidates for this procedure.
back